Obsidian Men's Health has a simple mission: to be the premier men's sexual-health institute in the world, enhancing the sex lives — and thereby the overall health and well-being — of men and their partners. We offer an affordable, yet unparalleled private-concierge experience, personally tailored to each client's needs. Our approach is comprehensive; we diagnose and treat with a single purpose in mind: to promote an extraordinary sex life for each of our clients.
Visits to your general physician or local urologist are often cold and impersonal. Obsidian Men's Health, by contrast, is health care at its most luxurious. Our clients' dignity is paramount, for good reason: Many men fail to seek treatment for sexual dysfunction due to the inherent embarrassment of discussing it and the lack of sensitivity exhibited by many traditional physicians and their staffs.
That's not the Obsidian way. We'll diligently take the time to understand your medical and sexual history, your needs and concerns, with empathy and discretion. Our personalized treatment caters to your lifestyle, not our consultants' schedules, and will enable you to reach peak sexual performance while also improving your overall health. Our top concern? Your comfort and well-being.
Dr. Shane Geib is a urologist certified by the American Board of Urology. He earned his medical degree with honors from the University of Missouri and completed a residency in urology at The George Washington University in Washington, D.C., during which he received the Pfizer Award.
Dr. Richman is a urologist certified by the American Board of Urology, and a member of the American Urologic Association. He was Phi Beta Kappa at Wesleyan University, and he earned his medical degree, summa cum laude, at the State University of New York at Buffalo.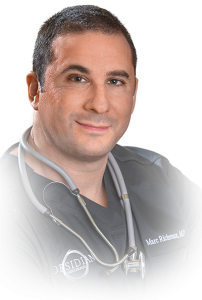 THE BENEFITS OF CONCIERGE
We believe in doing what's best for you, period. Our model gives our clients more access to their physicians and gives us the freedom to begin medically appropriate treatments immediately. With smaller caseloads, our expert physicians can be far more available to their clients by phone or e-mail, at nights and on weekends.
OUR TEAM

At Obsidian Men's Health, we rigorously select our staff members according to several key criteria: intelligence, empathy and peerless customer-service skills. We then give each of them extensive training which encompasses core tenets of hospitality and exceeding client expectations above all. We've had the privilege of treating prestigious clients around the world. Yet even if you arrive at Obsidian without an entourage in tow, you'll still feel like a head of state the moment you walk through our doors.
COST & INSURANCE

Obsidian Men's Health tailors diagnosis and treatment to the individual, taking the details of each of our clients' situations into account. As such, it's difficult for us to estimate specific costs across a large menu of services. Some clients have more complex sexual concerns that merit more advanced testing, more aggressive therapies and more frequent follow-up visits. Obsidian Men's Health also offers amenities and services not found at traditional health-care practices.
For men seeking a vasectomy, Obsidian offers concierge-level procedures performed by experts in an atmosphere of utmost serenity.
Low T can lead to difficulties including reduced sex drive, erectile dysfunction, ejaculatory disorders and reduced pleasure during sex.
Often referred to as impotence, ED is a common form of male sexual dysfunction in which the man is unable to achieve or maintain a satisfactory erection.
Our urologists are experts in all areas of men's sexual health. This also includes ejaculatory disorders, Peyronie's disease, prostate health and more.
THE MEN'S HEALTH SPECIALISTS
We're the experts in Men's Health and Men's Sexual Health. Learn more about the conditions we treat.
Obsidian Men's Health is a boutique medical practice that focuses solely on men's health and well-being.
We'll be happy to meet with you to address your needs or concerns. Click below to fill out a consultation request form.